Two more ideas for the lunch box this month.  Once again they come from reusing left overs, so they will save time and additional effort.
Pancakes are a once a month breakfast regular in our house, but I always end up with left over batter.  I usually keep it in the fridge for later,  but it never gets used so ends up thrown out.  Last time we had pancakes I cooked up the last of the batter, let it cool then we used little food cutters (biscuits cutters would be fine too) to cut them into the shapes.  There were still some pancake pieces thrown out, but I had a good little collection of pancake shapes that I froze and popped into a snack box a few days later.
The second lunch box filler was hash browns.  We made these for dinner and the cooked left overs were also frozen.  They defrosted well in the lunch box and can be eaten as is or topped with a favourite topping – cream cheese, pear sauce/chutney, cooked chicken, etc. – or use two to make a sandwich.  Hash browns are also great for hiding other vegies.
Hash Browns

Print recipe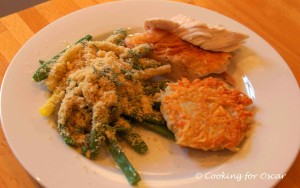 | | |
| --- | --- |
| Serves | 6 |
| Prep time | 20 minutes |
| Cook time | 10 minutes |
| Total time | 30 minutes |
| Allergy / Intolerance | Amines, Artificial Addititives, Artificial Colours, Dairy, Glutamates, Preservatives, Salicylates, Wheat |
| Suitable for | Dairy / Lactose Free, Gluten Free, RPAH Elimination Diet - Low Chemical / Failsafe |
| Meal type | Lunch, Lunch Box, Savoury Snack, Side Dish |
| Misc | Child Friendly, Freezable, Pre-preparable, Serve Cold, Serve Hot |
Quick and easy hash browns. Great for lunch boxes.
Ingredients
8 Small potatoes, approx 1kg (peeled and grated)
4 tablespoons flour (any kind - regular, spelt or gluten-free)
1 teaspoon salt
2 eggs (lightly beaten)
Rice bran oil (for frying)
To serve
Directions
| | |
| --- | --- |
| 1. | Mix all the ingredients in a large bowl until well combined. Divide into 6 portions and shape into a rough patty. |
| 2. | Add enough oil to the frying pan to cover the bottom by 1 - 2 ml. Heat the oil. |
| 3. | Add the hash browns to the frying pan and cook for 4 - 5 minutes on each side until golden brown. |
| 4. | Drain briefly on paper towel and serve with pear sauce or chutney. |
Note
Low Chemical / FAILSAFE
You can replace some of the potato with other grated vegetables to add some hidden nutrition, e.g. swede, celery, leek.  Just be careful not to add too much and change the flavour (exposing your secret!).
Previous Lunch Box Wednesday Posts:
Lunch Box Wednesday #1 – Rice Balls, Egg Rolls, Carrot and Zucchini Muesli Bars
Lunch Box Wednesday #2 – Preserving Fresh Fruit, Pear and Vegetable Bread, Chewy Gluten-free Crackers
Lunch Box Wednesday #3 – Squeeze'ems
Lunch Box Wednesday #4 – Mini Calzones
Lunch Box Wednesday #5 – Oopsies and Spelt Pizza Scrolls
Lunch Box Wednesday #6 – Mini Frittatas
Lunch Box Wednesday #7 – Ideas from the archives
Lunch Box Wednesday #8 – Mountain Bread Parcels