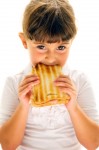 I have been sick for the last few weeks (3 weeks of bronchitis followed by gastro 🙁 ) while getting ready for Oscar's birthday party, so I haven't made any new lunch box recipes.  Rather than skip this month's lunch box week,  I thought I would go through my archives and put together a list of lunch box suitable recipes.  So here they are:
Sausage Rolls – cold or kept warm in a thermos
Rissoles – on their own or in a sandwich, roll or wrap with lettuce and chickpea dip / hummus or mayonnaise / egg-free mayonnaise
Tuna and Vegetable Rissoles (if amines are allowed) – as above
Pizza – cold slices of pizza or make small pizzas with small pita breads or pizza dough
Sushi – large hand rolls or smaller slices
Zucchini Fritters or Chickpea Patties – as per the rissoles above
Tortillas – fillings stuffed into pita pockets
Crumbed Chicken Drumettes or Golden Drumsticks – cold
Asian Style Dumplings – hot in a thermos
Japanese Vegetable Pancake – cold
Wow!  That's a lot more than I thought – some inspiration for my self here too!
Image courtesy of Ambro / FreeDigitalPhotos.net