Chicken pies, of various persuasions, have been a staple of our diet over the last 6 years, but I had never thought of this version until I came across a Martha Stewart recipe for Chicken Pot Pies with Puff Pastry.  This recipe is contains moderate salicylates and glutamates, but the vegetables can be easily substituted to make it FAILSAFE.
Individual Chicken Pies

Print recipe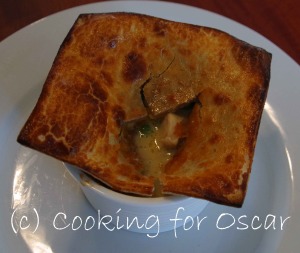 | | |
| --- | --- |
| Serves | 4 |
| Prep time | 45 minutes |
| Cook time | 15 minutes |
| Total time | 1 hour |
| Allergy / Intolerance | Amines, Artificial Addititives, Artificial Colours, Glutamates, Preservatives, Salicylates, Wheat |
| Suitable for | Gluten Free, RPAH Elimination Diet - Low Chemical / Failsafe, RPAH Elimination Diet - Moderate Chemical |
| Meal type | Lunch, Main Dish |
| Misc | Child Friendly, Pre-preparable, Serve Hot |
Easy individual chicken pies, topped with your choice of pastry.
Ingredients
1 Small leek (finely chopped)
3 tablespoons rice bran oil
1 Medium carrot (thinly sliced)
1/4 Medium sweet potato (diced)
1 Large potato (peeled and diced)
1 cup peas
2 cups vegetable stock (refer to recipe)
600g skinless chicken breasts (cut into one cm pieces)
Sea salt
5 teaspoons tapioca starch (see note)
2 tablespoons water
1/2 cup heavy cream
4 pieces pastry approx. 10 cm sqaure (your preference)
1 egg (lightly beaten)
Directions
1.
Preheat the oven to 250°C.
2.
Heat the oil in a large pan over medium heat. Add the leek and cook until soft (3 - 4 minutes).
3.
Add the carrots, sweet potato, potato and peas. Cook until soft.
4.
Add half a cup of the stock and allow to simmer until the liquid is reduced by half.
5.
Add the rest of the stock and bring to the boil.
6.
Add the chicken and cook for two minutes. Season with salt.
7.
Combine the tapioca starch and water, then add to the chicken and vegetables with the cream. Simmer for about 5 minutes, until the chicken is cooked and the sauce is thick.
8.
Divide the filling into four ramekin dishes and top each with a piece of pastry.
9.
Brush the pastry with the egg and cut a vent hole in the top.
10.

Bake in the oven until golden, approximately 10 - 12 minutes.
Note
Moderate Salicylates and Glutamates
Any type of pastry (commercial or home made) can be used for this recipe, you just need a square big enough to cover the top of the ramekins.
Variations:
1. Use mashed potato on top instead of pastry.
2. Substitute swede for the carrot and sweet potato, and chopped beans for the peas to make a low chemical / FAILSAFE version.
You can use corn flour (wheaten) instead of tapioca starch, but the pie filling will not be gluten/wheat free.
Refer to the recipes on the Basics Page for home made FAILSAFE vegetable stock.