After making Okonmiyaki last week I had quite a bit of carob syrup left over and was looking for something to do with it.  In the back of my mind I was also looking for some ideas for festive Christmas fare, so when I came across this recipe from Fast Ed for Carob Syrup Cake I thought it would make the prefect Failsafe / Low Chemical Christmas dessert or cake.  I picked up a couple of Christmas decorations from Riot Art and Craft for $2 each, and ta da! The cake itself is deliciously moist and sooo yummy, and a nice contrast of flavours with the carob syrup.  I sweetened my syrup a bit for this recipe, but that depends on how you find the taste of carob.
Of course you don't need to have this cake for Christmas, it would be great for any special occassion, or just because.  It's large and makes about 20 slices.
Carob Syrup Cake

Print recipe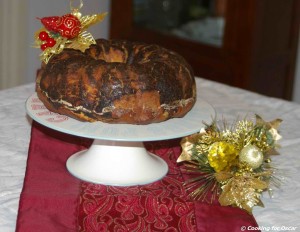 | | |
| --- | --- |
| Serves | 20 |
| Prep time | 25 minutes |
| Cook time | 50 minutes |
| Total time | 1 hours, 15 minutes |
| Allergy / Intolerance | Amines, Artificial Addititives, Artificial Colours, Glutamates, Preservatives, Salicylates |
| Suitable for | RPAH Elimination Diet - Low Chemical / Failsafe |
| Meal type | Sweet Things |
| Misc | Child Friendly, Pre-preparable, Serve Cold, Serve Warm |
| Occasion | Christmas, Special Occasions |
| Website | Fast Ed |
Deliciously moist, easy carob syrup cake.
Ingredients
2 1/2 cups plain white flour
5 teaspoons baking powder
3 eggs
125ml sunflower oil
500g smooth light ricotta
2 cups brown sugar (firmly packed)
1 teaspoon vanilla extract
300ml carob syrup (refer to note below)
For greasing:
1 tablespoon unsalted butter
1 tablespoon plain white flour
Directions
1.
Preheat the oven to 180°C. Grease a 2 1/2 litre Bundt cake pan with the butter then dust with flour. Shake out any excess flour.
2.

Pour the carob syrup into the cake pan and place in the freezer for 20 minutes until it thickens.

3.
Sift together the flour and baking poweder, then set aside.
4.

Combine the eggs, oil, ricotta and vanilla in a large bowl and whisk until smooth.

5.

Add the flour and beat well.

6.

Spoon the cake mixture over the syrup.

7.
Bake for 40 to 50 minutes. The cake is cooked when a skewer placed in the centre comes out clean.
8.

Allow the cake to cool in the pan for 5 minutes, then turn out onto a plate.

9.

Can be served warm, or allow to cool completely.
Note
Low Chemical / Failsafe
Depending on your tastes and the type of carob syrup you use, you may want to sweeten it a bit.  Place the carob syrup in a small saucepan and bring to a simmer.  Add a tablespoon of brown sugar (adjust to your own taste) and stir through until the sugar dissolves.  Allow to cool before using.
If you want to make your own carob syrup I have a recipe here.
 Coming Up Next Time: Mini Meatloaves